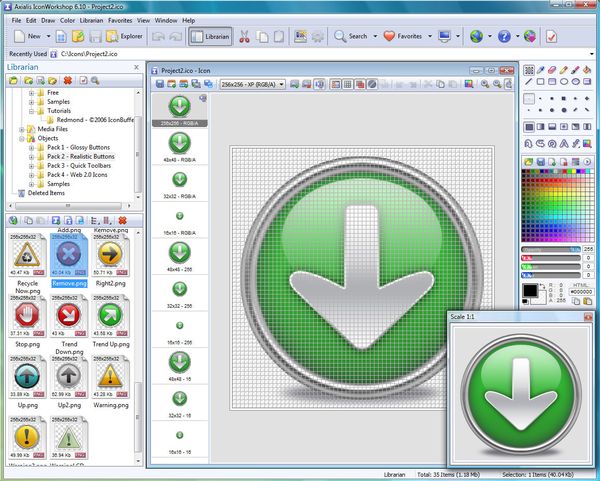 One tool for all your needs: IconWorkshop is professional tool designed to Create, Extract, Convert, Manage and Redistribute Windows and Macintosh Icons. Many features permits you to create high quality icons in minutes. Support for Vista icons with embedded PNG compression. Convert icons between Macintosh and Windows in a click, create icons from PNG images. Tools include automatic image format creation, creation of icons from images including PSD, PNG, JPEG2000, cross-platform conversion, automated batch processing and a Photoshop transfer plug-in. Produce icons up to 256x256 using a fully integrated workspace. It supports the Vista icon format featuring PNG-compressed 256x256 images. It includes a library of 150 image objects. You can also export your icons to Web-optimized GIF images.

Create professional icons for Windows:
- Full support for Windows Vista PNG-compressed icons
- Create quality icons for Windows and Macintosh OS
- Create attractive icons using Image Objects
- Convert icons between Macintosh and Windows
- Automatically create icons from images
- Export icons to images to illustrate your applications

Use a professional tool:
- Powerful Editor
- Create composite icons using drag & drop
- Integrated workspace
- Advanced Help
- Compatible with graphic industry standards
- Batch Procedures
- Librarian & Explorer with previews

Size (7z): 30 Mb



Download Axialis IconWorkshop 6.9.2.0 Portable




Please register or login to get full access on our site!






Related news: