| | | |
| --- | --- | --- |
| | | |

Author: fredoport | Published 6 March 2022 | Views: 4211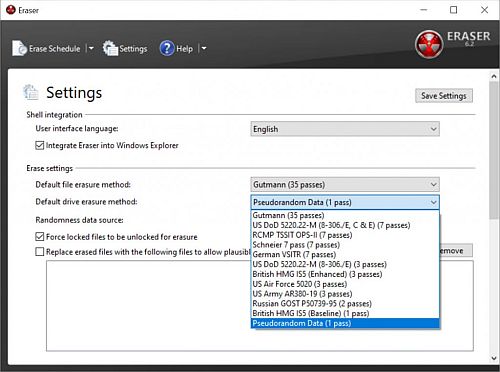 Eraser is an advanced security tool (for Windows), which allows you to completely remove sensitive data from your hard drive by overwriting it several times with carefully selected patterns. Works with Windows 95, 98, ME, NT, 2000, XP, Vista, Windows 2003 Server and DOS. The patterns used for overwriting are based on Peter Gutmann's paper "Secure Deletion of Data from Magnetic and Solid-State Memory" and they are selected to effectively remove magnetic remnants from the hard drive. Other methods include the one defined in the National Industrial Security Program Operating Manual of the US Department of Defence and overwriting with pseudorandom data. You can also define your own overwriting methods. Erase files and folders securely.
» portable-soft / portable System
Author: fredoport | Published 6 March 2022 | Views: 10703


Product Key Explorer - Find over 500 popular software product keys instantly! Product Key Explorer displays product key for Windows, MS Office, SQL Server and more than 500 popular software products installed on your local or remote network computers. In order to install or reinstall Microsoft Office, Windows, or other commercial software, you must have access to a product serial key (CD Key) for that product. Retrieves serial keys from network computers and allows to protect your company from having pirated software on your network.
» portable System / portable Utilities

| | | |
| --- | --- | --- |
| | | |