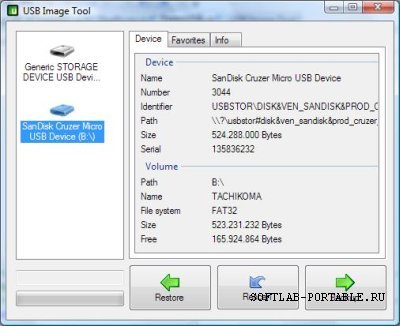 Backup and restore your USB drives with ease and accuracy. USB Image Tool can create images of USB memory sticks and MP3 players, that are mounted as USB drives. USB Image Tool allows you switch between images with different music styles on your MP3 Player or to make an exact backup image of your USB Stick.

Features:
· create image files of USB drives;
· restore images of USB drives;
· compressed image file format;
· show USB device information;
· manage favorite USB images;
· command line utility.

USB Image Tool works with any device, that implements the USB Mass Storage protocol. This includes flash drives, card readers and a lot of other devices, like digicams, cell phones and mobile music players. USB Image Tool supports the globull secure mobile work environment.

What is the difference between device and volume mode? In contrast to the volume mode, the device mode copies the whole USB device, including boot sector. So if you want to make a backup of a bootable USB device, or you have created a flash drive with more than one partition, you should use the device mode. The volume mode processes the first volume on an USB flash drive. Windows currently limits removable USB flash drives to only one volume. As long as the partition information on the flash drive doesn't change and it is not a bootable device, it is ok to use the volume mode.

How can I access the created image files without a physical USB device? Various disk image software is capable of showing the content of an image. Personally I recommend WinImage. Compressed image files (*.imz) are basically a zipfile with the raw image as a compressed file. You can rename and open them with any Zip-Utility to extract the raw image. Another helpful utility is OSFMount.

Size (7z): 3 Mb



Download USB Image Tool 1.84 Portable




Please register or login to get full access on our site!






Related news: