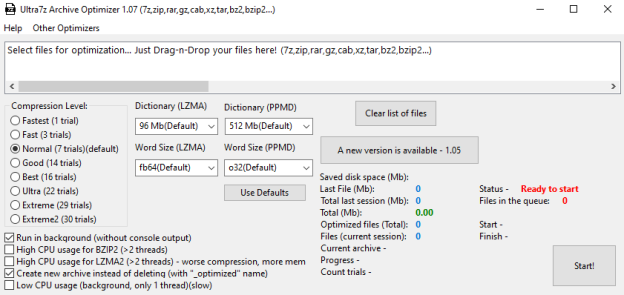 Optimize and convert your 7z (rar, zip…) in smaller 7z archives! Auto switch PPMD/LZMA/LZMA2/DEFLATE/DELTA/BZIP2 during creation 7z-archives (+ improved (tuned) lzma for jpg, bmp, wav, exe…) Full compatible with original 7z format. High compression ratio — better than non tuned 7-zip original. Batch processing of archives (drag-n-drop). Fast and Ultra modes for repacking! Reduce the size of your old and new archives in one click! Save space on your computer or cloud storage, and don't overpay for storing your files!

Use it carefully! Please create backup copy before use it.
Please verify content of each archive.
Run only 1 active instance of the program!

How does it work?
When creating an archive in 7-zip or any other program, you can select only 1 compression algorithm for all files added at a time. Although the program provides several of them. Different algorithms are more effective for different types of files. For example, texts are better compressed using PPMD, but binary files are LZMA, uncompressed audio files (wav) or images (bmp) need a DELTA filter, and so on.

Ultra7z Optimizer repacks such an archive using all possible compression algorithms, trying (sorting) different algorithms for each file type (there is a selection by file extension). At the end, it creates the smallest possible archive size (i.e. it optimizes the original archive, the content does not change!). This is why it is quite a long process (several times longer than simply creating an archive), but it will not affect the speed of unpacking the archive, it will still be very fast (unlike other superarchivers like PAQ, where you have to wait for hours to unpack, here it takes only a few seconds or even less). The compression gain can be up to 10-20% for certain types of files! If the optimized archive is the same size as the original one or larger, the program will leave the original archive unchanged, i.e. you will not lose anything in size in any case.

Thus, the program can also be used as a regular Converter from various types of archives (zip, rar, etc.) to 7z archives.

For daily use, I recommend the «Normal» mode, it is fast enough and gives good results. For better compression, use the «good» or «best» modes. And if you are ready to wait longer, then «ultra». The «Extreme» and «Extreme2» modes can be selected if the archive size is small enough (up to 10-50 MB), or if you want to get maximum compression despite a fairly long repacking process. If you have more than 4 GB of RAM, you can increase the size of the LZMA dictionary to 256 MB and PPMD to 1024 MB, which can further improve compression. Also, a small improvement usually gives an increase of the parameter «LZMA word Size» to 273.

The main difference between Ultra7z Optimizer and other similar repackaging programs is that it works much faster, because it does not go through all the compression options (and there are more than 400 of them), and tries only the main ones (giving the greatest gain), without chasing hundreds of percent.

Features:
— Auto switch PPMD/LZMA/LZMA2/DEFLATE/BZIP2 during creation 7z-archives (+ improved (tuned) lzma for jpg, bmp, wav, exe…)
— Full compatible with original 7z format.
— High compression ratio — better than non tuned 7-zip original.
— Supported formats: 7z, ZIP, ZIPX, CAB, RAR, ARJ, LZH, GZIP, BZIP2, Z, CHM, ISO, NSIS, TAR, CPIO, RPM and DEB (formats supported by 7-zip).

Size (7z): 3 Mb



Download Ultra7z Archive Optimizer 1.13 Portable




Please register or login to get full access on our site!


Related news: