| | | |
| --- | --- | --- |
| | | |
Author: admin | Published 9 May 2021 | Views: 620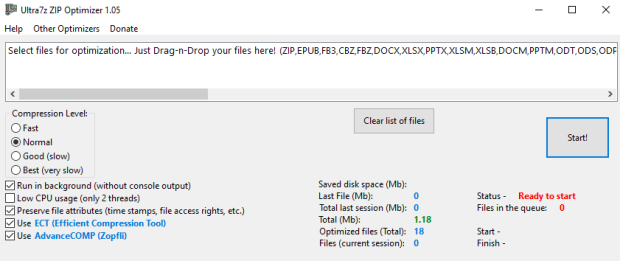 Optimize and convert your ZIP archves and other files (ZIP, DOCX, XLSX, PPTX, XLSM, XLSB, DOCM, PPTM, ODT, ODS, ODP, ODG, ODF, ODB, APK, JAR, WAR, EAR, XPI, FB3, EPUB, CBZ) in smaller size! Program optimizes your file to new one with «_optimized» name ending (source file will remain intact). Maximum compression for files without quality loss — up to 10-30%! Full compatible with original format. The ZIP archive or other file is reduced by repacking its contents with a stronger compression algorithm. Batch processing of files (drag-n-drop). Compression mode: good (faster) or best (slowly). The main difference between Ultra7z ZIP Optimizer and other similar repackaging programs is that it saves quality of all pictures inside your documents. Full stats — saved disk space (Mb) total and for each archive in the list.
» portable-soft / portable Archiver
Author: fredoport | Published 9 May 2021 | Views: 21949


VueScan is inexpensive third party scanning software which supports many (if not almost all) current film scanners, and several flatbeds too. VueScan's major claim to fame is its simple and accurate color correction from color negatives. This is often difficult, and VueScan generally makes it easy. VueScan supports the scanner's special hardware, like batch scanning, auto-focus, any infrared channel for dust and scratch suppression, and multi-scan to reduce scanner noise in the dark areas of slides. VueScan can often multi-scan with scanners that do not support this, using multi-pass scans. VueScan can often retrieve the full bit depth of data from scanners that otherwise only output 24 bits.
» portable-soft / portable Graphics
Author: fredoport | Published 9 May 2021 | Views: 7071


OpenOffice.org is a free alternative to MS Office with a Word compatible word processor, a complete Excel compatible spread sheet program and a Power Point like presentation software and drawing program and also allows to save to PDF file. In addition, OpenOffice.org offers enhanced printing capabilities and options for direct connection with external email programs as well as form-letter management to send letters to addresses from a database. WRITER is OpenOffice.org's word processor: use it for anything from writing a quick letter to producing an entire book with embedded illustrations, cross-references, tables of contents, indexes, bibliographies... Auto-complete, auto-format, and real-time spelling check make light work of the hardest task. Writer is powerful enough to tackle desktop publishing tasks such as creating multi-column newsletters, brochures. The only limit is your imagination.
» portable-soft / portable Office
| | | |
| --- | --- | --- |
| | | |