| | | |
| --- | --- | --- |
| | | |
Author: admin | Published 22 November 2020 | Views: 102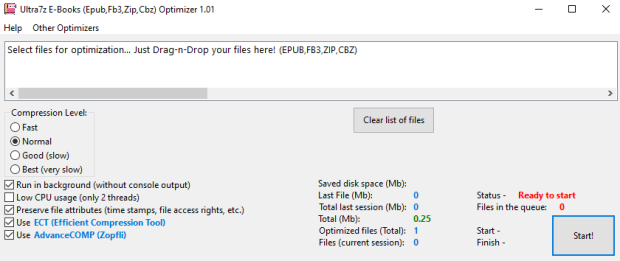 Maximum compression for e-books without quality loss — up to 5-30% (Lossless)! Full compatible with original formats. The document is reduced by repacking the contents with a stronger compression algorithm. It uses 2 programs and selects the best result: ECT (Efficient Compression Tool), AdvanceCOMP. Compression mode: good (faster) or best (slowly). Batch processing of files (drag-n-drop). Program optimizes your file to new one with «_optimized» name ending (source file will remain intact). Output files have their timestamps/permissions set to match those of their inputs. It saves quality of all pictures inside your ebooks. ePub is a free and open e-book standard by the International Digital Publishing Forum (IDPF). FictionBook (FB3) is an open XML-based e-book format.
» portable Archiver / portable Office / portable Text tools / portable Utilities
Author: fredoport | Published 22 November 2020 | Views: 11591


FormatFactory is a multifunctional media converter. Provides functions below: All to MP4/3GP/MPG/AVI/WMV/FLV/SWF. All to MP3//WMA/MMF/AMR/OGG/M4A/WAV. All to JPG/BMP/PNG/TIF/ICO... Rip DVD to video file , Rip Music CD to audio file. MP4 files support iPod/iPhone/PSP/BlackBerry format. Source files support RMVB. Support converting all popular video, audio, picture formats to others. Repair damaged video and audio file. Reducing Multimedia file size. Support iphone,ipod multimedia file formats. Picture converting supports Zoom,Rotate/Flip,tags. DVD Ripper. Supports 62 languages
» portable-soft / portable Video
Author: fredoport | Published 22 November 2020 | Views: 3468


K-Meleon is an extremely fast, customizable, lightweight web browser based on the Gecko layout engine developed by Mozilla which is also used by Firefox. Gecko provides excellent support for current (X)HTML, CSS and DOM standards. K-Meleon's design goal is to provide a fast and reliable web browser while providing a highly customizable interface and using system resources efficiently. K-Meleon uses the native Windows application programming interface (API) to create its user interface instead of Mozilla's cross-platform XML User Interface Language (XUL) layer, and as a result, is tightly integrated into the look and feel of the Windows desktop.
» portable-soft / portable Internet
| | | |
| --- | --- | --- |
| | | |