| | | |
| --- | --- | --- |
| | | |

Author: fredoport | Published 7 September 2023 | Views: 6034


Spybot Search Destroy can detect and remove spyware of different kinds from your computer. Spyware is a relatively new kind of threat that common anti-virus applications do not yet cover. If you see new toolbars in your Internet Explorer that you didn't intentionally install, if your browser crashes, or if you browser start page has changed without your knowing, you most probably have spyware. But even if you don't see anything, you may be infected, because more and more spyware is emerging that is silently tracking your surfing behaviour to create a marketing profile of you that will be sold to advertisement companies. Spybot-SD is free, so there's no harm in trying to see if something snooped into your computer, too.
» portable-soft / portable Antivirus / Security
Author: fredoport | Published 7 September 2023 | Views: 7900


REAPER is a complete digital audio production application, offering a full multitrack audio and MIDI recording, editing, processing, mixing and mastering toolset. REAPER is reasonably priced Windows software for multitrack audio production. Requires no dongle, has no copy protection, and can be evaluated with full functionality. Portable - supports running from USB keys or other removable media. 64 bit audio engine. Excellent low-latency performance. Stunning multiprocessor performance. Direct multi-track recording to many formats including WAV/BWF/W64, AIFF, WavPack, FLAC, OGG, and MIDI. Extremely flexible routing. Supports a wide range of hardware (nearly any audio interface, outboard hardware, many control surfaces).
» portable-soft / portable Audio
Author: admin | Published 7 September 2023 | Views: 862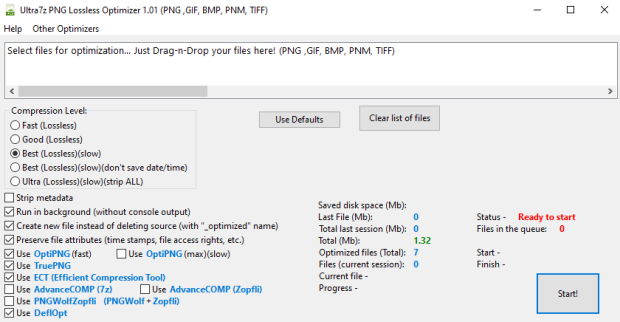 Optimize and convert your graphic files/images in smaller PNG files (up to 5-30%) lossless! Full compatible with source PNG format. Convert from PNG, GIF, BMP, PNM, TIFF to smallest PNG! It uses 6 programs and selects the best result: OptiPNG, TruePNG, ECT (Efficient Compression Tool), AdvanceCOMP, PNGWolfZopfli, DeflOpt. You can enable or disable each of them. Batch processing of files (drag-n-drop). Reduce the size of your PNG files in one click without quality loss! Program optimizes your file to new one with «_optimized» name ending (source file will remain intact). Program will be especially useful for webmasters to optimize images on sites to increase places in search results.
» portable-soft / portable Graphics


| | | |
| --- | --- | --- |
| | | |