| | | |
| --- | --- | --- |
| | | |
Author: admin | Published 19 September 2020 | Views: 188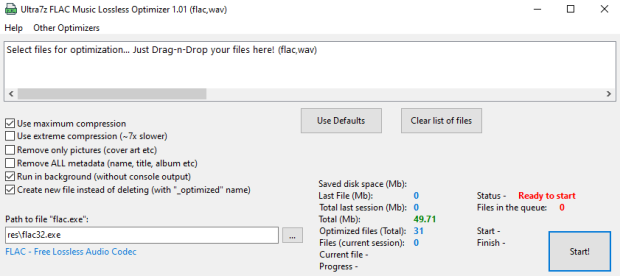 Convert your music FLAC/WAV in smaller FLAC files lossless (up to 1-5% and more)! High compression ratio - better than your programs with default settings (-8). FLAC stands for Free Lossless Audio Codec, an audio format similar to MP3, but lossless, meaning that audio is compressed in FLAC without any loss in quality. It uses program flac.exe from Xiph.Org Foundation. Batch processing of files (drag-n-drop). Reduce the size of your music/audio files in one click without quality loss! Program optimizes your file to new one with «_optimized» name ending (source file will remain intact). Output files have their timestamps/permissions set to match those of their inputs.
» portable-soft / portable Audio
Author: fredoport | Published 19 September 2020 | Views: 14524


R-Studio is a family of powerful and cost-effective undelete and data recovery software. Empowered by the new unique data recovery technologies, it is the most comprehensive data recovery solution for recovery files from FAT12/16/32, NTFS, NTFS5 (created or updated by Windows 2000/XP/2003/Vista), HFS/HFS+ (Macintosh), Little and Big Endian variants of UFS1/UFS2 (FreeBSD/OpenBSD/NetBSD/Solaris) and Ext2FS/Ext3FS (Linux) partitions. It functions on local and network disks, even if such partitions are formatted, damaged or deleted. Flexible parameter settings give you absolute control over data recovery.
» portable-soft / portable Recovery Tools
Author: fredoport | Published 19 September 2020 | Views: 4862


Process Monitor is an advanced monitoring tool for Windows that shows real-time file system, Registry and process/thread activity. It combines the features of two legacy Sysinternals utilities, Filemon and Regmon, and adds an extensive list of enhancements including rich and non-destructive filtering, comprehensive event properties such session IDs and user names, reliable process information, full thread stacks with integrated symbol support for each operation, simultaneous logging to a file, and much more. Its uniquely powerful features will make Process Monitor a core utility in your system troubleshooting and malware hunting toolkit.
» portable System / portable Utilities
| | | |
| --- | --- | --- |
| | | |