| | | |
| --- | --- | --- |
| | | |
Author: admin | Published 14 January 2022 | Views: 249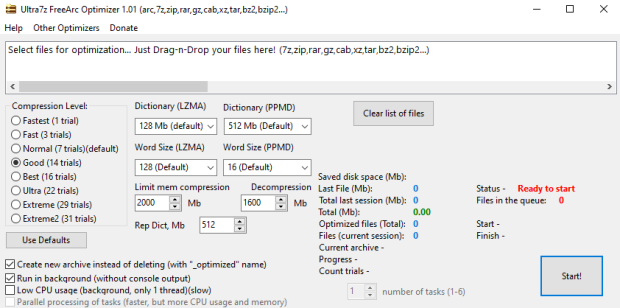 Optimize and convert your .arc archives to smaller ones! Auto switch LZMA/PPMD/GRZIP/EXE/DISPACK/DELTA/DICT/LZP/REP during creation arc-archives (+ improved (tuned) lzma for jpg, bmp, wav, exe…) Full compatible with original ARC format. High compression ratio – better than non tuned FreeArc original. Batch processing of archives (drag-n-drop). Fast and Ultra modes for repacking! Reduce the size of your old and new archives in one click! Save space on your computer or cloud storage, and don't overpay for storing your files!
» portable-soft / portable Archiver
Author: fredoport | Published 14 January 2022 | Views: 7770


High-level system of e-communication messages processing with intuitive interface and strong privacy protection. The Bat! mail client has a lot of vital benefits and useful features that make your email experience simple and convenient. All these features perfectly fit any Windows OS. Moreover, The Bat! is the first and only email client Certified for Windows by Microsoft Corporation. The Bat!'s characteristic feature is the most widespread support of authentication protocols and of encryption while working with mail servers. The Bat! is one of the most protected mail clients, it is adopted by many companies for which privacy protection is a matter of life and death. The most recent versions of The Bat! have smart security buttons for each message that help in making users' information really private.
» portable-soft / portable Internet
Author: fredoport | Published 14 January 2022 | Views: 3563


Create bootable USB drives the easy way. Rufus is a utility that helps format and create bootable USB flash drives, such as USB keys/pendrives, memory sticks, etc. It can be especially useful for cases where: you need to create USB installation media from bootable ISOs (Windows, Linux, UEFI, etc.); to work on a system that doesn't have an OS installed; to flash a BIOS or other firmware from DOS; you want to run a low-level utility. Despite its small size, Rufus provides everything you need! Oh, and Rufus is fast. For instance it's about twice as fast as UNetbootin, Universal USB Installer or Windows 7 USB download tool, on the creation of a Windows 7 USB installation drive from an ISO. It is also marginally faster on the creation of Linux bootable USB from ISOs.
» portable-soft / portable Cd / Dvd
| | | |
| --- | --- | --- |
| | | |