| | | |
| --- | --- | --- |
| | | |
Author: admin | Published 4 October 2021 | Views: 565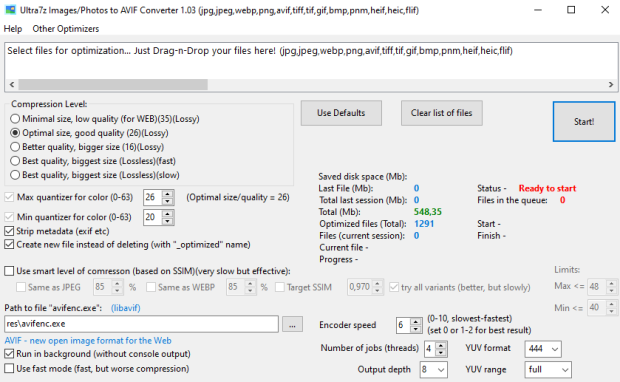 Convert your pictures JPEG/PNG/WEBP to smaller AVIF files (up to 10-50%)! High compression ratio — better than your programs / photo camera or smartphone. AVIF is a modern image format that provides superior lossy compression for images on the web. Using AVIF, webmasters and web developers can create smaller, richer images that make the web faster. It uses program avifenc.exe from LibAvif. Batch processing of files (drag-n-drop). Reduce the size of your image files in one click with ot without quality loss! Program optimizes your file to new one with «_optimized» name ending (source file will remain intact). Option for smart level of compression (based on SSIM). AVIF images are 50% smaller in size compared to JPEG and 20% to WEBP. Google Chrome released with full AVIF support.
» portable-soft / portable Graphics
Author: fredoport | Published 4 October 2021 | Views: 31370


Google Chrome is a browser that combines a minimal design with sophisticated technology to make the web faster, safer, and easier. In Google Chrome, you can get anywhere on the Web with one box. The address bar that sits at the top of the normal Google Chrome window simplifies your Internet experience by doubling as a search box. You can also use it to bookmark websites and stay aware about the security of a website.
» portable-soft / portable Internet
Author: fredoport | Published 4 October 2021 | Views: 9022


SQLite Expert is a powerful visual tool that enables you to easily administer your SQLite3 databases and gain significantly better visibility into how your databases are operating. SQLite Expert integrates database management and maintenance into a single, seamless environment, with a clear and intuitive graphical user interface.
» portable-soft / portable Utilities
| | | |
| --- | --- | --- |
| | | |