| | | |
| --- | --- | --- |
| | | |
Author: admin | Published 5 April 2021 | Views: 709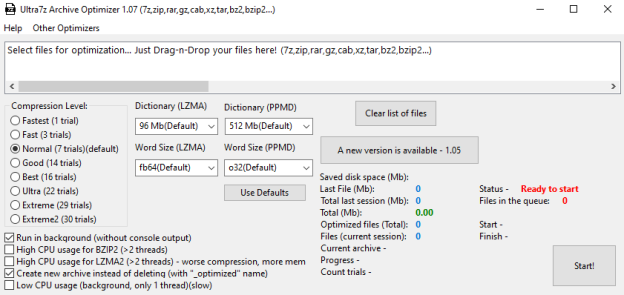 Optimize and convert your 7z (rar, zip…) in smaller 7z archives! Auto switch PPMD/LZMA/LZMA2/DEFLATE/DELTA/BZIP2 during creation 7z-archives (+ improved (tuned) lzma for jpg, bmp, wav, exe…) Full compatible with original 7z format. High compression ratio — better than non tuned 7-zip original. Batch processing of archives (drag-n-drop). Fast and Ultra modes for repacking! Reduce the size of your old and new archives in one click! Save space on your computer or cloud storage, and don't overpay for storing your files!
» portable-soft / portable Archiver
Author: fredoport | Published 5 April 2021 | Views: 15822


TreeSize Professional is a powerful and flexible harddisk space manager for Windows 200X/XP/Vista/7/8/10. Find out which folders are the largest on your drives and recover megabytes on your disks. TreeSize Professional shows you the size, allocated and wasted space, the number of files, 3D charts, the last access date, the file owner and permissions, the NTFS compression rate and much more information for several folders or drives you choose. It also lets you search drives, entire servers or the entire network for old, big, temporary and duplicate files. The search results can be moved, deleted or exported.
» portable-soft / portable System
Author: fredoport | Published 5 April 2021 | Views: 10734


Wise Registry Cleaner is one of the the best registry cleaner and registry optimizer, it speeds up your PC by cleaning your Registry. Help you improve your PC's performance by optimize your Registry, and it's so easy, you only need make a few clicks. The Registry is at the heart of every Windows computer. The older your PC is, the more junked-up its Registry becomes. Badly written programs (and there are plenty of those around) don't bother to clean the Registry when you uninstall them, and some programs add unnecessary junk to the Registry. The more junked-up your Registry, the more likely it is to crash or to slow down your PC.
» portable-soft / portable System
| | | |
| --- | --- | --- |
| | | |