| | | |
| --- | --- | --- |
| | | |
Author: admin | Published 22 June 2020 | Views: 118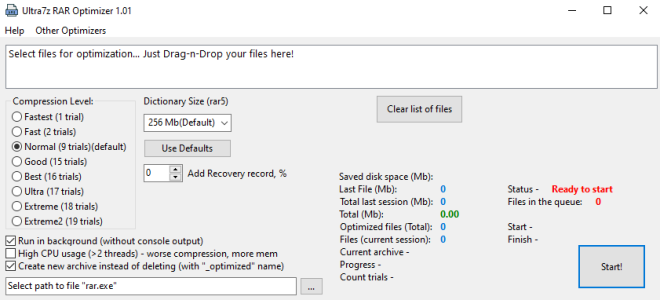 Optimize and convert your RAR in smaller RAR archives! Auto switch PPMD/DELTA/AUDIO/EXE/RGB/RAR4/RAR5/standard during creation RAR-archives. Full compatible with original RAR format. High compression ratio — usually better than WinRAR original. Batch processing of archives (drag-n-drop). Fast and Ultra modes for repacking! Reduce the size of your old and new archives in one click! Save space on your computer or cloud storage, and don't overpay for storing your files! Support for recovery record.
» portable-soft / portable Archiver
Author: fredoport | Published 22 June 2020 | Views: 12384


Wise Care 365 is an all-in-one PC tune-up utility. It will keep your Windows secure, clean and fast. Tune up your PC: Wise Care 365 is a bundle of important registry, disk, and other system utilities for your PC. Easy to use and effective, Wise Care 365 is the best solution to improve your PC's performance. Get it and your computer will never run slow again! Simple "One Click Tune-up" option will optimize your PC.
» portable-soft / portable System
Author: fredoport | Published 22 June 2020 | Views: 10692


UltimateDefrag is the world's most powerful defragger in terms of the file placement flexibility it gives you for defragging and strategically placing files on your hard drive - right down to the individual file level. With The Defragger And File Placement Optimizer That Lets You Defrag & Optimize Your Hard Drive - Any Way You Want To! UltimateDefrag is the Ultimate Defragger and File Placement Optimizer. Defragging hard drives helps to restore your hard drive performance.
» portable System / portable Utilities
| | | |
| --- | --- | --- |
| | | |